The year 2019 was a turning point in the adoption of an "inclusive economy." In August of that year, 34 global firms pledged more than $USD 1 billion to combat inequality in the OECD-sponsored G7 Business for Inclusive Growth (B4IG) coalition. But what prompted this shift? What spurred business leaders to put an inclusive economy at the top of their agendas? A critical evaluation of past, present, and future income inequalities may explain this impetus.
Awareness of the past: Recent decades have seen a reduction in extreme poverty in some regions such as China, but an increase in other areas, such as Sub-Saharan Africa and even Europe. Yet during this same time period, income inequality rose at a startling pace.
According to the OECD, "Income inequality in OECD countries is at its highest level for the past half century. The average income of the richest 10% of the population is about nine times that of the poorest 10% across the OECD, up from seven times 25 years ago." Furthermore, "wealth concentration is twice the level of income inequality"[1].
Awareness of the present: Globalization has left the middle classes behind. Rather than seeing an improvement in their standard of living, they have instead accumulated years of frustration and disappointment. The camel's back was primed for the proverbial last straw. In France, that came at the end of 2018 with the gilets jaunes, or yellow vest movement, triggered by the announcement of a carbon tax. Similar movements occurred in Chile, after an announcement of metro fare increases, and in Lebanon with the announcement of a tax on social media communication apps such as WhatsApp.
The coronavirus pandemic has only exacerbated global poverty and inequality. In France, an increase of 1 million people living in poverty is expected[2], while globally, more than 150 million people will switchin extreme poverty by 2021[3].
Awareness of the future: Global demographic changes, particularly in Africa, are calling attention to global inequality. The continent's population is expected to double between now and 2050; currently, between 15 and 17 million young people enter Africa's job market each year[4], requiring a net need for job creation of around 10 million jobs each year[5].
In addition to these demographic trends, major environmental changes, particularly global warming, are making life increasingly difficult in many countries. Rising sea levels, increasing temperatures, and an increase in the occurrence of extreme phenomena such as fires, droughts, and severe storms are expected to drive the number of climate refugees to anywhere from 150 million[6] to 1 billion by 2050[7].
The consequences of growing poverty and inequalities are manifold. There are, of course, the ethical and human considerations that drive individuals around the globe to work to rectify or ameliorate the situation. But there are additional considerations. From an economic perspective, how can businesses reasonably be expected to thrive in a degraded environment? From a geopolitical perspective, how can societies around the world fracture in this way without becoming a major threat to peace?
The focus that global business leaders have placed on an inclusive economy stems from these fundamental questions.
This awareness is not new, but it is becoming a tremendous pressure on companies. Many business leaders have understood for years that non-inclusive growth is not sustainable, and have simultaneously seen consumers, employees, and young people, members of the future workforce, searching for increased meaning in their lives. More investors are becoming convinced of the need to assess and mitigate the risks associated with social inequalities. Investors are also more interested in opportunities an inclusive economy could provide, even if only in terms of the potential returns from developing new markets in emerging countries. Some business leaders began experimenting with inclusive economic models in the early 2000s, but the acceleration of inequality and the recent appearance of social anger has driven the movement to a new stage of awareness and accelerated calls to corporate action.
With the increased awareness of an "inclusive economy" comes an increased need to define what, exactly, an inclusive economy and inclusive business is. The report "Inclusive Business: What It Is and Why It Matters," released by the Society & Organizations Institute at HEC Paris as part of the B4IG platform framework, addresses this gap. We have been working on the contours of the inclusive economy since 2008, when HEC Paris created its Inclusive & Social Business Chair in 2008 with Renault, Danone and Schneider Electric. We draw on 12 years of experience, reflection, and interaction with the private sphere, public sphere, and civil society to address the fundamentals of an inclusive economy and business.
In the report, we explain what an inclusive economy means to us and detail barriers to inclusion and levers that businesses can use to remove these obstacles. We show proofs of concept, both businesses that have had positive social impact while being economically efficient, and businesses that increased their economic performance in the medium- to long-term through innovative inclusive practices.
If you are interested in these questions, we invite you to read this report and give us your feedback; do not hesitate either to make this inclusive economy movement grow, which needs the contribution of all stakeholders. We hope this report will spur a movement to build a fairer and tougher society, and a movement to serve peace.
Bénédicte Faivre-Tavignot, HEC Paris Associate Professor and Executive Director of the HEC Society & Organizations Institute
Marieke Huysentruyt, HEC Paris Assistant Professor of Strategy
Read the full report here: Inclusive Business: What It Is And Why It Matters.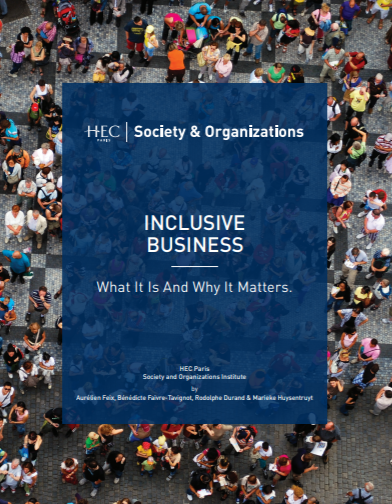 ***
[1] http://www.oecd.org/social/inequality.htm
[2] https://www.lemonde.fr/societe/article/2020/10/06/un-million-de-nouveaux-pauvres-fin-2020-en-raison-de-la-crise-due-au-covid-19_6054872_3224.html
[3] https://www.worldbank.org/en/news/press-release/2020/10/07/covid-19-to-add-as-many-as-150-million-extreme-poor-by-2021
[4] Source : AFD, 2018
[5] Source : IMF, 2018
[6] Source : World Bank
[7] Source : UN